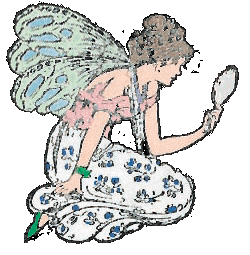 Real Name: Kelley
E-Mail: Just log into PixieMUD and ask her.
Minx has been playing PixieMUD since 1992.
Minx has been a Wizard on PixieMUD since 1992.
Guilds Minx has belonged to:
Druid and Valkyrie.

She heard about PixieMUD from:
Pixie and I were roommates in 1991. After I had my baby in 1992 and was at home alone with the him all day, I decided to try this MUD that I knew she had started. I was hooked, and the rest is history.

Minx's Personal Profile:

I'm a Seattle gal in my mid-20's (does 28 still count as "mid"?) who's been transplanted to Texas by my dear husband, Swordmaster, who I met in 1993 on PixieMud. I have a wonderful 6 year old boy, Matthew, who's in first grade and keeps me plenty busy. I recently quit my full time job with a state agency and decided to prostrate myself to the higher mind and return to college for that ever-elusive degree.